On June 8-9, 2017, KHS and guest convener Amy Murrell Taylor hosted ten acclaimed U.S. historians and Organization of American Historians President Edward L. Ayers for a symposium celebrating the initial publication of the Civil War Governors of Kentucky Digital Documentary Edition.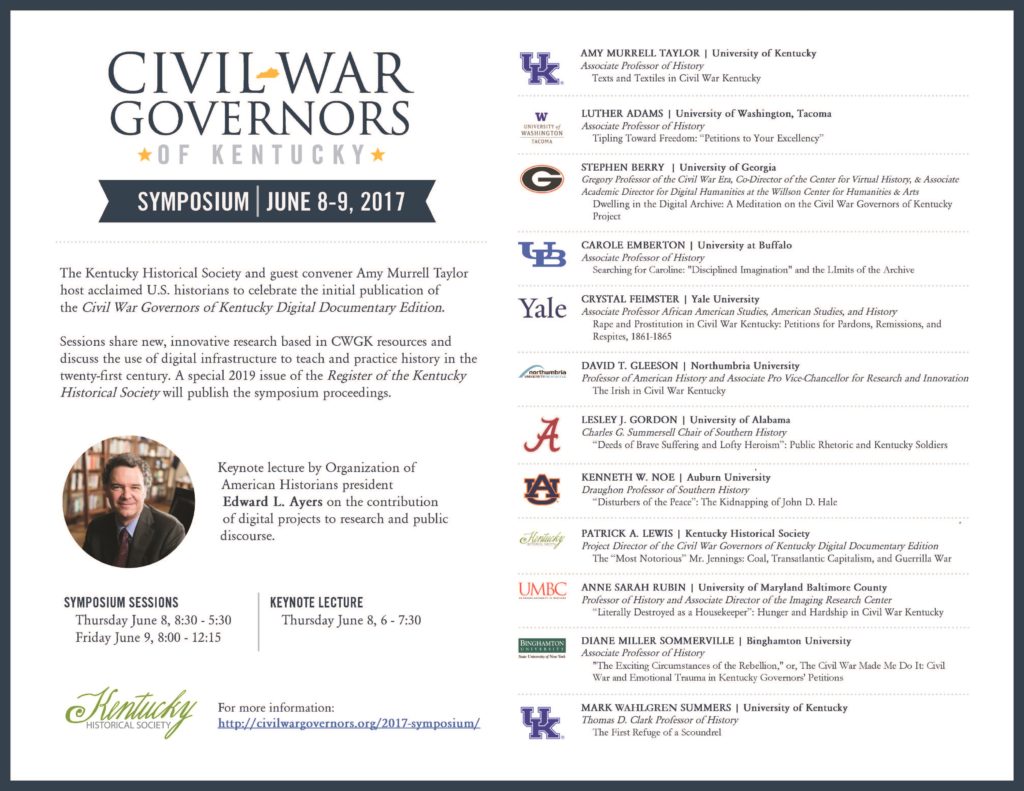 Each participant produced a short, trailblazing paper that analyzed a different set of documents within the CWGK corpus and proposed a list of new historiographical questions which need to be addressed through CWGK materials and using CWGK tools.
Each panelist opened discussion with a 10-15 minute summary of their findings, research process, and outstanding questions. Recordings of those summaries are posted below. You may also read a Storify recap of the proceedings here.
A special 2019 issue of the Register of the Kentucky Historical Society will publish the symposium proceedings.
Participants and their Research
Luther Adams (University of Washington, Tacoma)
Tipling Toward Freedom: "Petitions to Your Excellency"
---
Stephen Berry (University of Georgia)
Dwelling in the Digital Archive: A Meditation on the Civil War Governors of Kentucky Project
---
Carole Emberton (University at Buffalo)
Searching for Caroline: "Disciplined Imagination" and the Limits of the Archive
---
Crystal Feimster (Yale University)
Rape and Prostitution in Civil War Kentucky: Petitions for Pardons, Remissions, and Respites, 1861-1865

---
David T. Gleeson (Northumbria University)
"An Unfortunate Son of Erin:" The Irish in Civil War Kentucky

---
Lesley J. Gordon (University of Alabama)
"Deeds of Brave Suffering and Lofty Heroism": Public Rhetoric and Kentucky Soldiers

---
Patrick A. Lewis (Kentucky Historical Society)
The "Most Notorious" Mr. Jennings: Coal, Transatlantic Capitalism, and Guerrilla War

---
Kenneth W. Noe (Auburn University)
"Disturbers of the Peace": The Kidnapping of John D. Hale
---
Anne Sarah Rubin (University of Maryland Baltimore County)
"Literally Destroyed as a Housekeeper": Hunger and Hardship in Civil War Kentucky
---
Diane Miller Sommerville (Binghamton University)
"The Exciting Circumstances of the Rebellion," or, The Civil War Made Me Do It: Civil War and Emotional Trauma in Kentucky Governors' Petitions

---
Mark Summers (University of Kentucky)
The Uncivilest War of All

---
Amy Murrell Taylor (University of Kentucky)
Texts and Textiles in Civil War Kentucky