by Tony Curtis
This might seem like an obvious topic, but there are several ways to search the Early Access website. As a matter of fact, there are three ways: (1) Use the "Browse" function; (2) Use the "Search Collection" function; or (3) Use the "Advanced Search" function. It depends on the objective of your search, as to which function best suits your particular needs.
The "Browse" function is an appropriate choice for individuals who would like to search a particular repository and/or a particular collection. For example, say you are interested in researching the first Confederate provisional governor of Kentucky—George W. Johnson—and you know that the Kentucky Historical Society houses a collection of personal papers for George W. Johnson. You would click the "Browse" button on the main menu in the top right quadrant of the website. Then scroll down until you see the "Kentucky Historical Society" repository button. CLICK. Then scroll until you find the "George W. Johnson Papers" button. CLICK. And commence your browsing of the collection at the item level.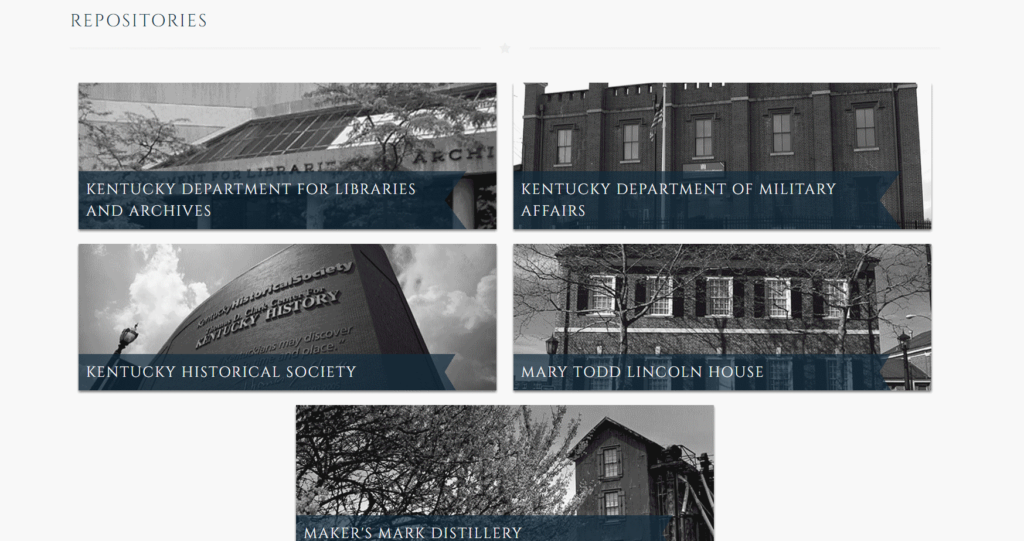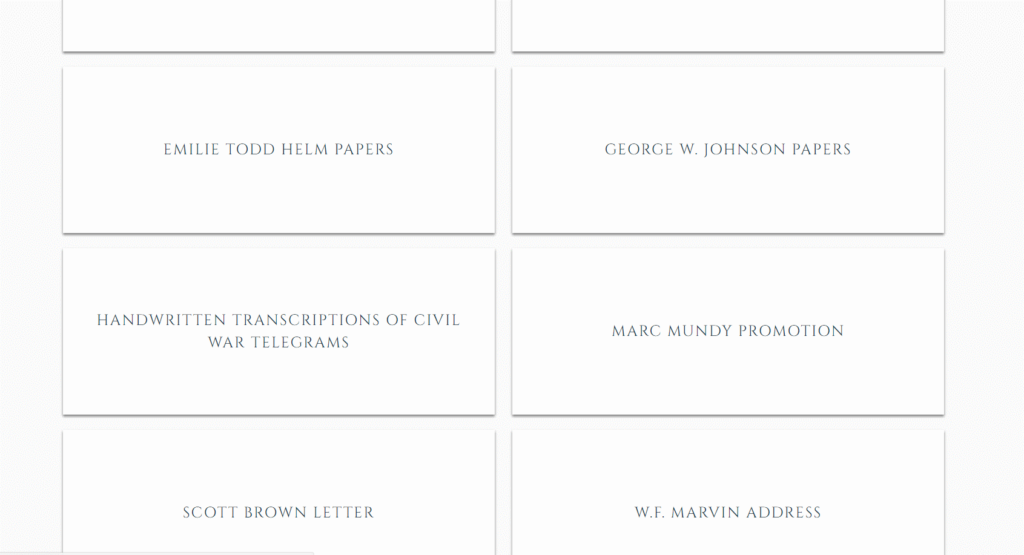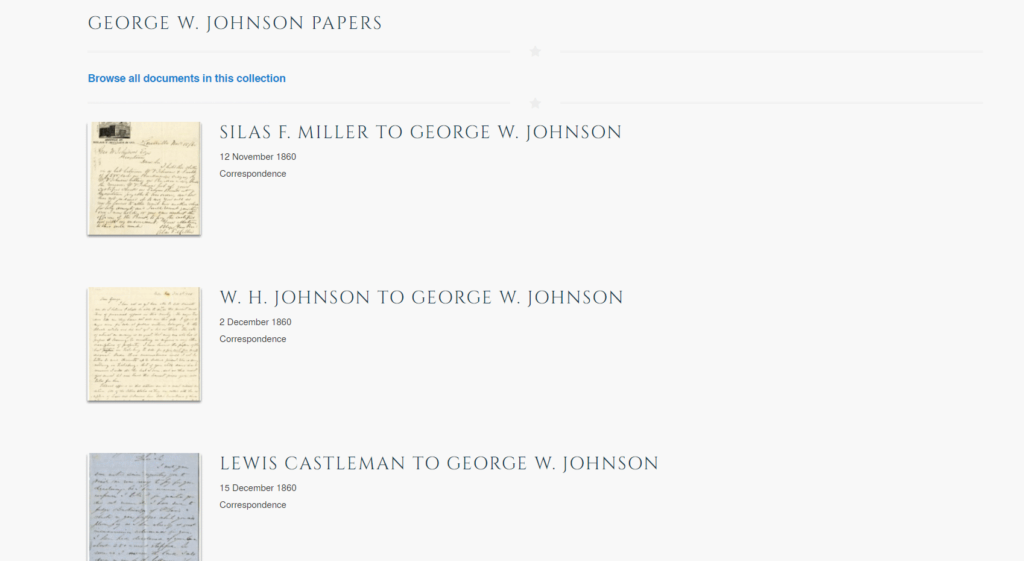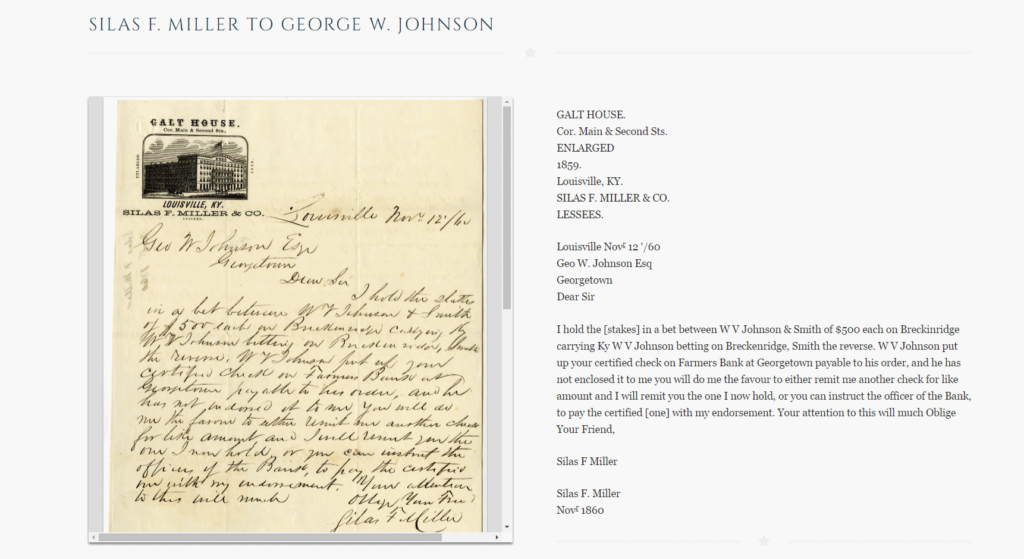 If you would like to use the quickest search function, then you are in luck. The "Search Collection" function appears on the main screen—and every screen thereafter—for ease of user access. Just plug in your term or terms and commence your search of the entire collection. You can also narrow your search by using simple or Boolean search operators. For example, a search for Benjamin F. Buckner (no quotation marks) returns 180 search results, while "Benjamin F. Buckner" (with quotation marks) returns one search result. Searching Benjamin AND Buckner (with Boolean operators) returns sixteen search results. So try different combinations of words and operators when using the "Search Collection" function.
The most complex and most effective search function to use is the "Advanced Search" function. This is a faceted search, meaning that is allows the researcher to narrow search results by using many different criteria that have been built into the metadata by project editors. To use this search function, click the "Advanced Search" option underneath the "Search Collection" search box on any page. You will arrive at a page that allows you to target your search by using three specific keyword search fields. You can select from a list of eleven fields to narrow your search: Accession Number, Collection, Date of Creation, Dates Mentioned, Document Genre, Document Title, Editorial Note, Item Location, Place of Creation, Repository, and Transcription. Any combination of these fields will help you narrow your search. For example, say I wanted to find all documents sent to Thomas E. Bramlette from Covington, Kenton County, Kentucky, in 1865. I would conduct the following faceted search to Thomas E. Bramlette (Field: Document Title); 1865 (Field: Date of Creation); and Covington, Kenton County (Field: Place of Creation).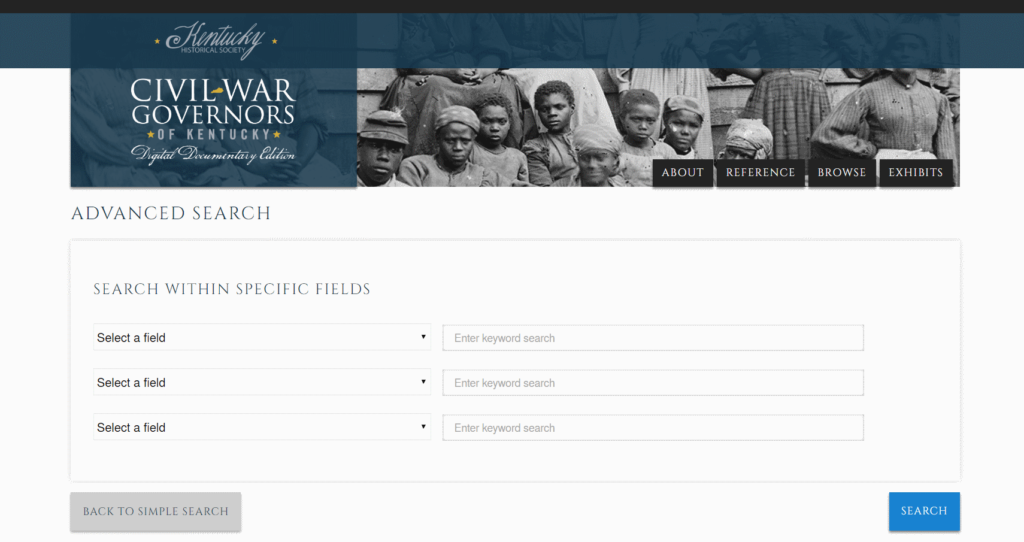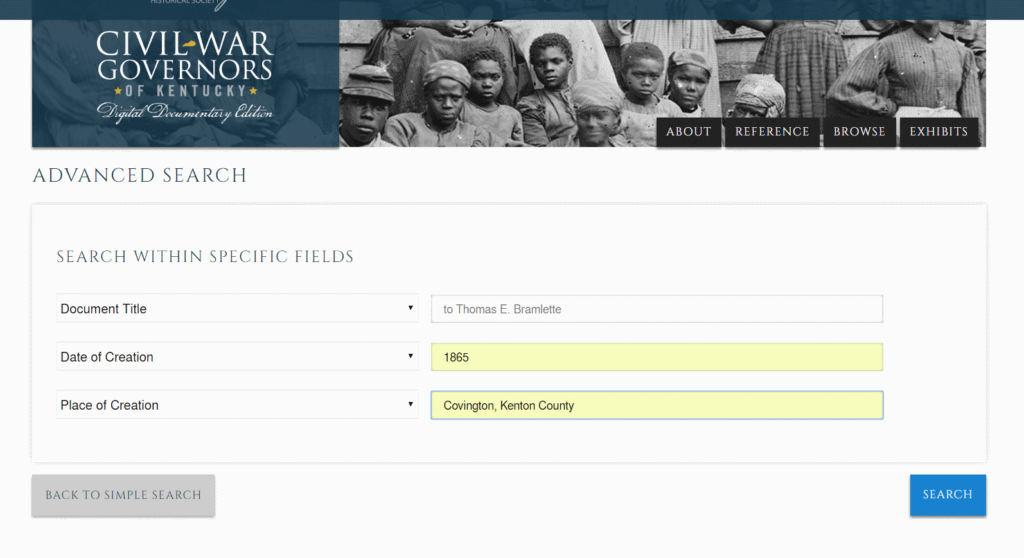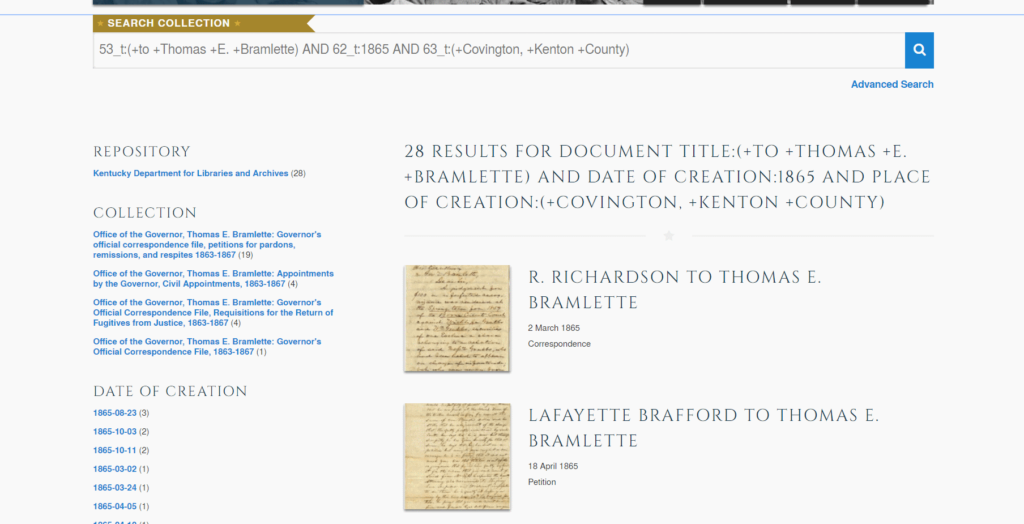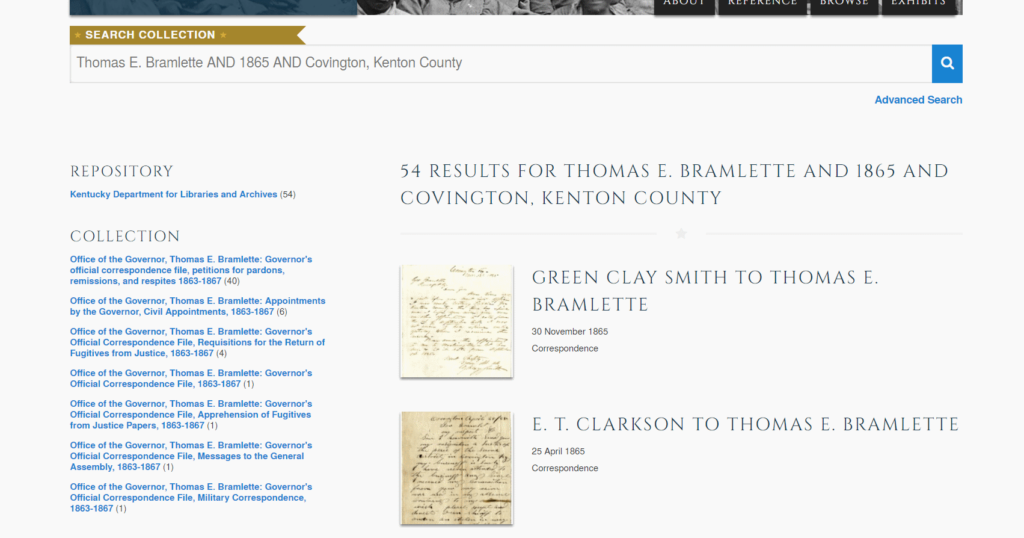 This faceted search returns twenty-eight search results, while a Boolean search conducted using the "Search Collection" returns fifty-six results. A simple search with all these terms and no operators returns 8,910 documents. Thus we see the benefit of the faceted search function. I would suggest experimenting with all the search functions and see which one fits your research objectives the best and it may change from search to search. Early Access currently contains just over 10,000 documents and this number is only going to continue to grow over time.
So what do you say, how about a few searches? Bet you can't search just once.
Tony Curtis is an Assistant Editor of the Civil War Governors of Kentucky Digital Documentary Edition.