By Tony Curtis
March is Women's History Month and the National Women's History Project (NWHP) theme for 2015 is "Weaving the Stories of Women's Lives." An appropriately themed document recently appeared in the form of an undated Franklin County, Kentucky, petition signed by the "Ladies of Frankfort." Seventy-three of the eighty-six signatures are Frankfort women. They are petitioning Governor Beriah Magoffin to pardon Augustus Eisner, a convict in the Kentucky State Penitentiary. Eisner is a "Gardner of skill and experience—," and the petitioners believe that he is not guilty, worthy of executive clemency, and "if liberated now, he could find employment here before the season expires—." Magoffin issued the pardon, while Kentucky's Secretary of State—and son-in-law of the governor—Nathaniel "Nat" Gaither noted his dissent.[1]
The subject matter of the petition is interesting enough, however, there are many other important aspects to this document. First, the "Ladies of Frankfort" engaged their collective political voice in petitioning the governor of Kentucky. Although they had no right to vote, they were politically engaged. Secondly, this document gives historians unique insight into the social networks of women in Frankfort, Kentucky. Were the petitioners members of a specific social organization? How were the women connected? Do similar petitions exist in Frankfort? From across the commonwealth of Kentucky? There are many unanswered questions about this document and many more questions to ask in regard to the role of women in the Civil War-era. There is a particular absence of women voices in Kentucky's Civil War narrative. Documents like this one will help future scholars to better understand Civil War Kentucky and weave the experience of women into the larger narrative of the state and the nation.
---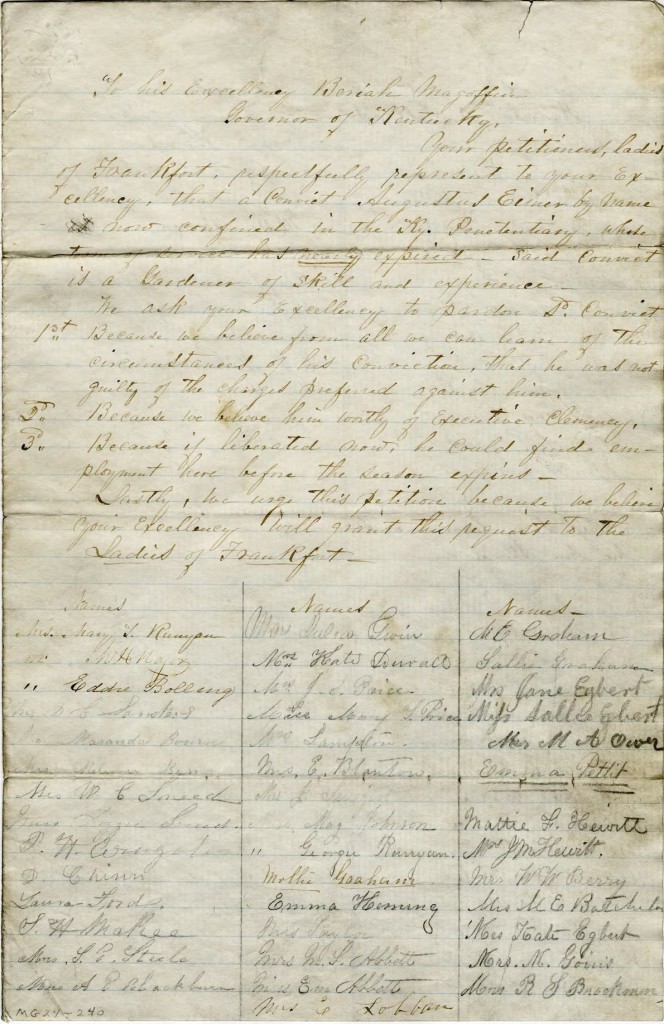 ---
[1] Mrs. Mary T. Runyon, et al., to Beriah Magoffin, Date Unknown, Office of the Governor, Beriah Magoffin: Governor's Official Correspondence File, Petitions for Pardons and Remissions, 1859-1862, Box 24, MG24-240 to MG24-241, Kentucky Department of Library and Archives, Frankfort, Kentucky.