By Tony Curtis
In November 1862, William A. M. Van Bokkelen requested a commission as Commissioner of Deeds for Kentucky in the Nevada Territory. A series of letters discovered by the Civil War Governors of Kentucky Digital Documentary Edition (CWG-K) shows his attempt to obtain a commission through politically connected Kentuckians, and a lack of response on the part of the governor. In this particular letter to Senator John J. Crittenden, Van Bokkelen asks for Crittenden's endorsement and continues his push by asking, yet again, about the fees owed to the Secretary of State.
The heart of the letter contains a revealing statement into the transition of the governorship from Beriah Magoffin to James F. Robinson in August 1862. Van Bokkelen states, "The war having caused several changes in your Executive. I would ask that you fill in the name of the person who is governor, as we have not been able to settle the question who is the present governor. I direct to Louisville having seen a notice of your removal to that place."[1]
So it appears the status of Kentucky's governorship was up in the air to those removed from the state. Even politically connected individuals in the Nevada Territory, such as Van Bokkelen, misunderstood who was governor of Kentucky. These were chaotic times for Kentuckians, as they experienced a complicated transition of the governorship, a Confederate invasion of the state, the capture of the capital, and the evacuation of the sitting government to Louisville. It appears this chaos spread as far west as the Nevada Territory.
---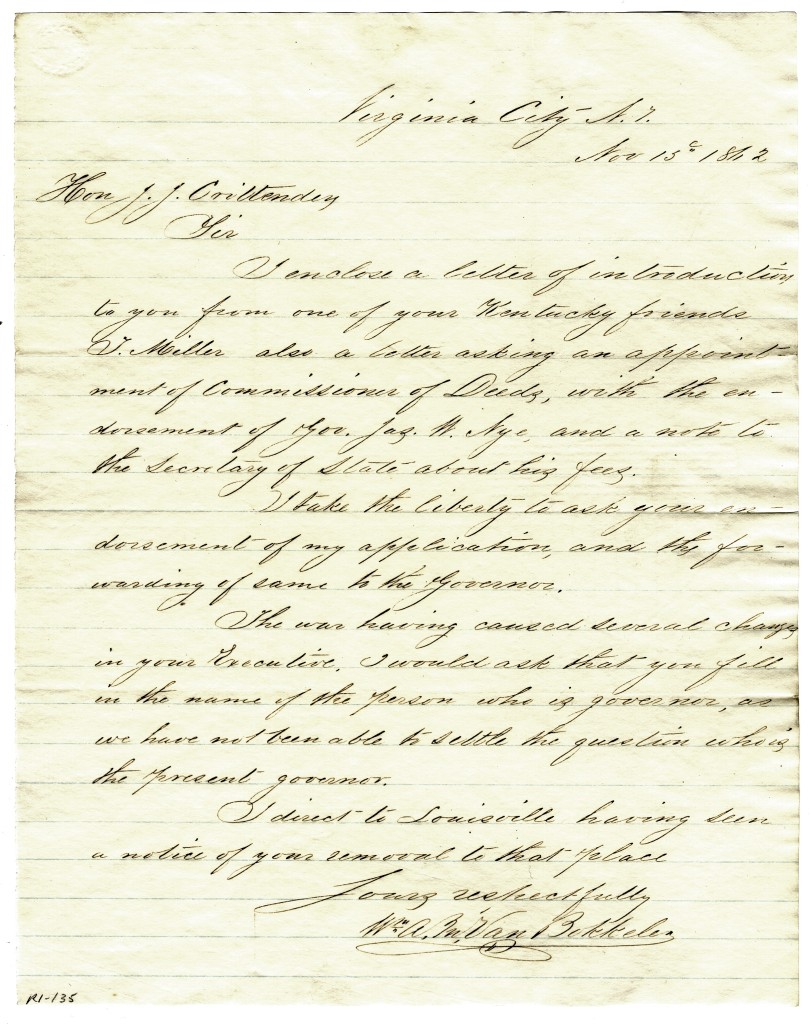 ---
[1] William A. M. Van Bokkelen to John J. Crittenden, November 15, 1862, Office of the Governor, James F. Robinson: Appointments by the Governor, Civil Appointments, 1862-1863, Box 1, R-135, Kentucky Department of Library and Archives, Frankfort, Kentucky.