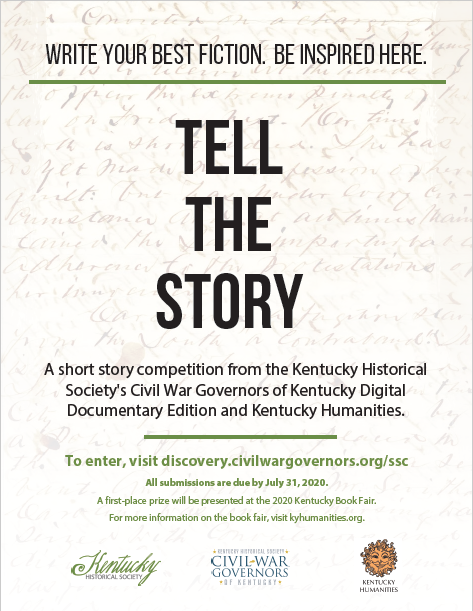 We launched our first writing contest. And we want you to submit your story.
Are you an undergraduate student? A writer? Tell us what it would be like to experience the Civil War. The Civil War Governors of Kentucky Digital Documentary Edition (CWGK) is a freely accessible online publication of the Kentucky Historical Society. The edition focuses on the office of the governor during the Civil War, with the goal of uncovering the lost lives and voices of everyday people struggling to cope with unprecedented societal chaos.
Using any of the thousands of documents available on the CWGK website as your inspiration, craft your own story of life in this war-torn state.
Submissions are due by July 31, 2020.
What's in it for you? The first-place story will receive a cash prize and an opportunity to appear on "Think Humanities," the podcast from Kentucky Humanities, hosted by Bill Goodman. The prize for first place will be presented at the 2020 Kentucky Book Fair in Lexington, Kentucky.
You can find the full competition information—competition guidelines (including themes and sample documents to choose from), a scoring rubric, and a flyer to share the news at discovery.civilwargovernors.org/ssc.
Help us spread the news! To share with your department and other students, download this flyer.
Do you teach? This competition has been crafted to bring historical document experience to a range of students, especially those studying history and English. Keep this opportunity in mind as you plan your summer assignments, or offer an extra-credit opportunity for your students in the summer term. Know a student who isn't in your class that would be interested? Share it with them too.
Have questions? Our team is here for you. Please direct questions to civilwargovernorsofkentucky@gmail.com.