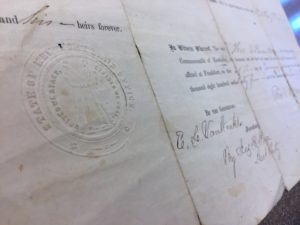 It's always nice when CWGK documents walk right into our office! While going through old family papers, KHS Head of Reference Services Cheri Daniels found an 1865 land grant to one of her ancestors, Matthew Pace, signed by Governor Thomas E. Bramlette. Land grants such as these are particularly difficult for CWGK to track down because they move administratively from the County Courts briefly to the executive department in Frankfort, and then back into the hands of the grantee. Documents like this one, in short, will likely have to come to CWGK via family holdings like Cheri's.
As the CWGK staff got out the scanners, the story really took off. Register of the Kentucky Historical Society Associate Editor Stephanie Lang noticed the name of one of her Floyd County ancestors, William J. May, on the grant. KHS's library collections came to the rescue, and the team quickly pulled maps of Floyd and Magoffin counties to locate the specific plot of land granted in this newly accessioned CWGK document.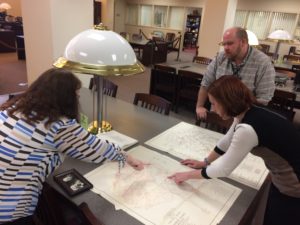 Will this document change the way we understand the Civil War era in Eastern Kentucky? Perhaps not. But it does underscore the importance of every document in the CWGK corpus. Each document contains a link to the lives and stories of everyday people from across the Commonwealth and the globe. And bringing these documents together in digital public space allows CWGK researchers to make connections between one another in the context of our shared past.
Look forward to the digital debut of the Matthew Pace collection soon at Discovery.CivilWarGovernors.org!