The Civil War Governors of Kentucky (CWGK) team is happy to announce the launch of the new, annotated CWGK website! The updated and expanded site publishes for the first time 350 fully annotated documents and combines the previously launched Omeka platform with the power and versatility of our annotation tool—Mashbill—to produce complex social networking visualizations for each entity (person, organization, place, and geographical feature). The CWGK team worked with Brumfield Labs and Dazhi Jiao to complete this latest digital publishing platform.
Let's explore the entity page of Governor James Fisher Robinson. You can see Robinson's social network and a visualization of this network—for example, his connection to G. F. Cook (circled in black).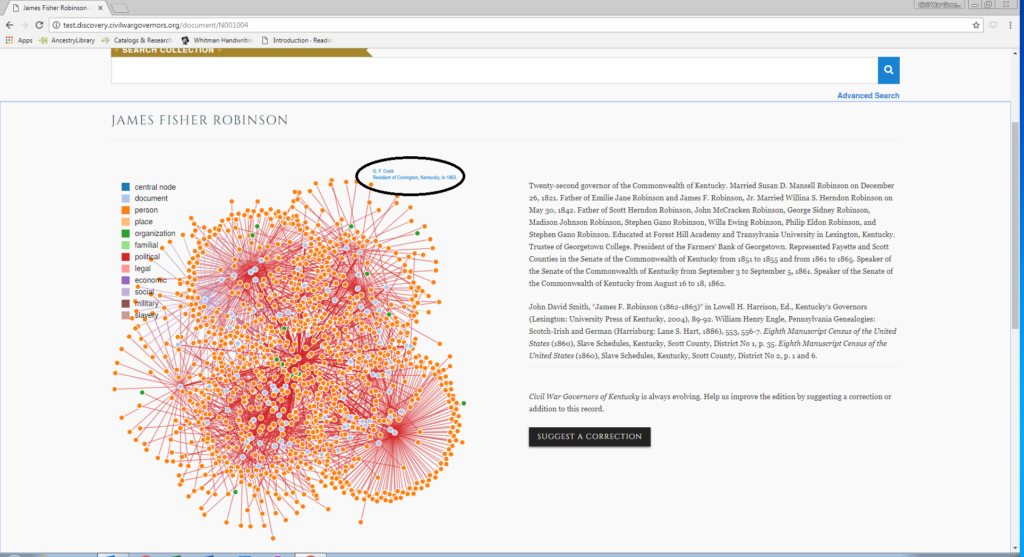 And looking at the entity page for G. F. Cook, we see his connection to Governor Robinson.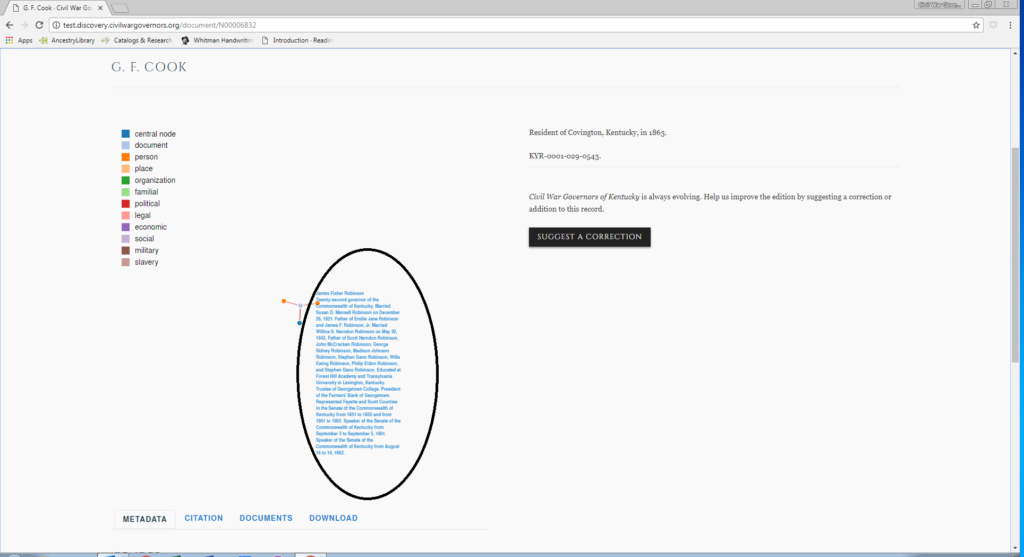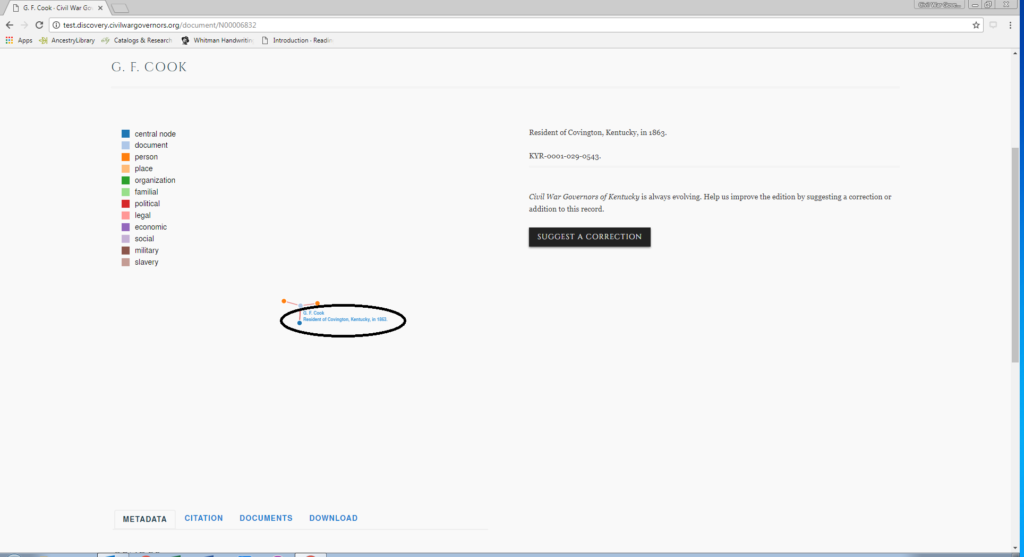 The legend on the left depicts the different types of entities you will see in the visualization and the different types of relationships that link them together.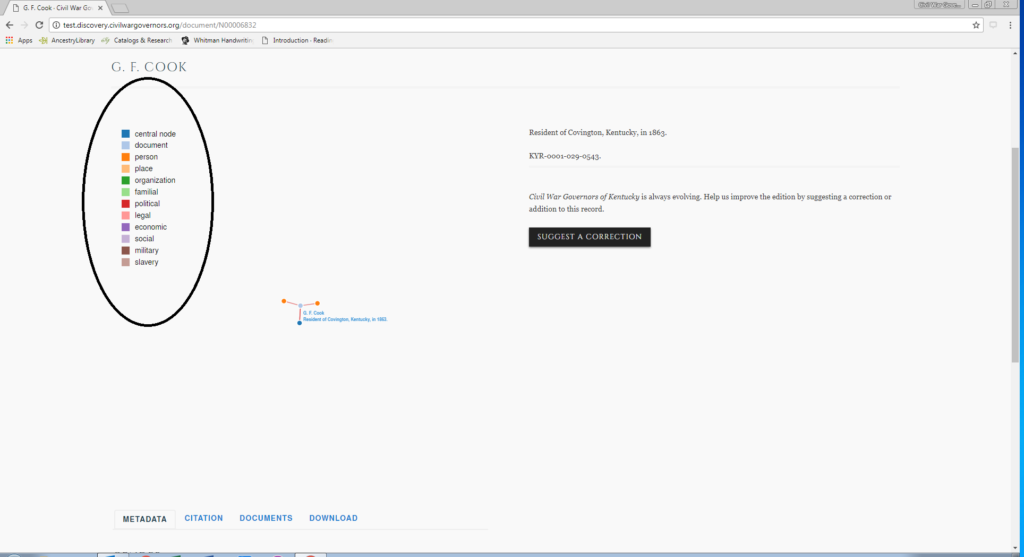 Back to Robinson's entity page, there are many more important pieces of information. First, you can see the full biographical entry for Robinson and the citation for the sources consulted in writing his biography.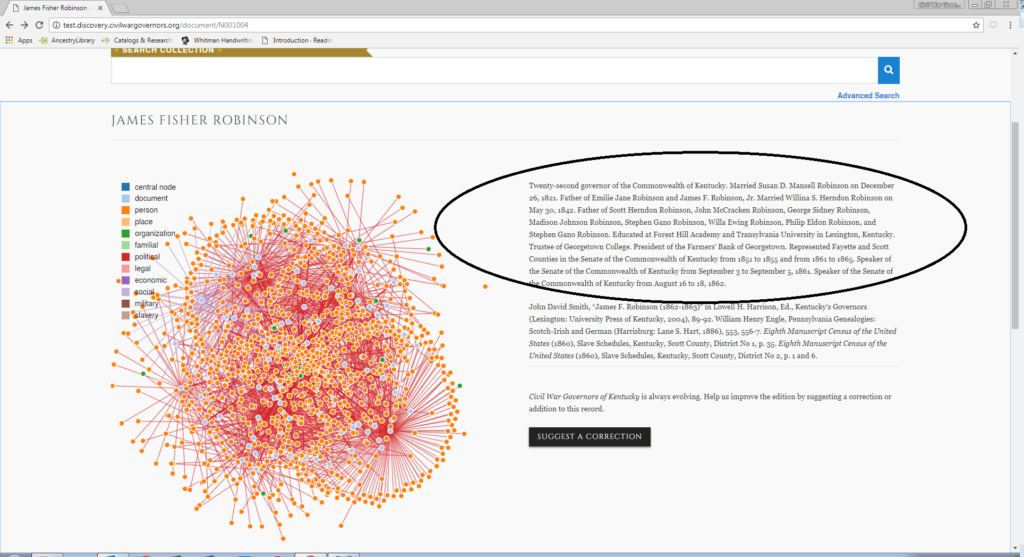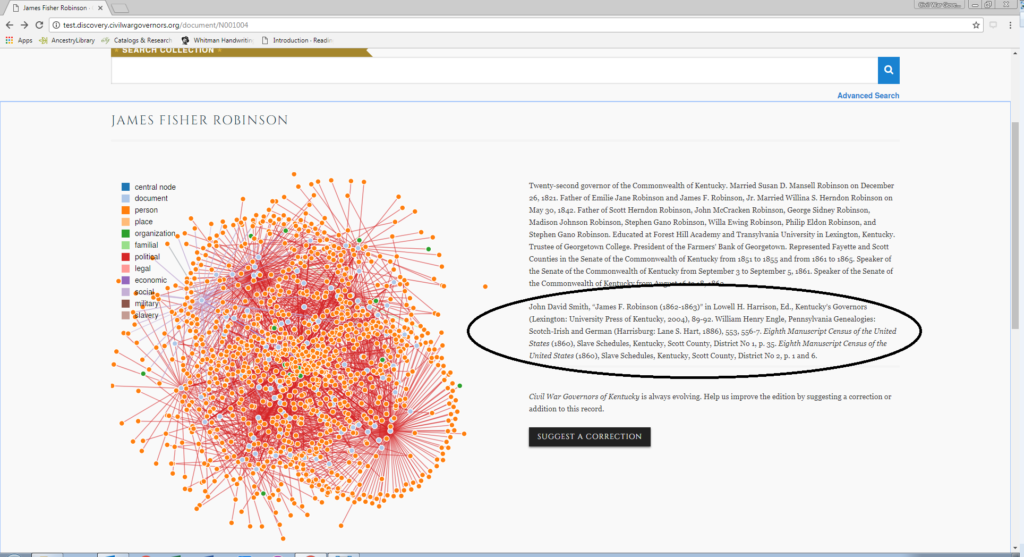 Below the visualization are a series of tabs that will give you access to additional information and tools about each entity. There are four tabs: Metadata, Citation, Documents, and Download.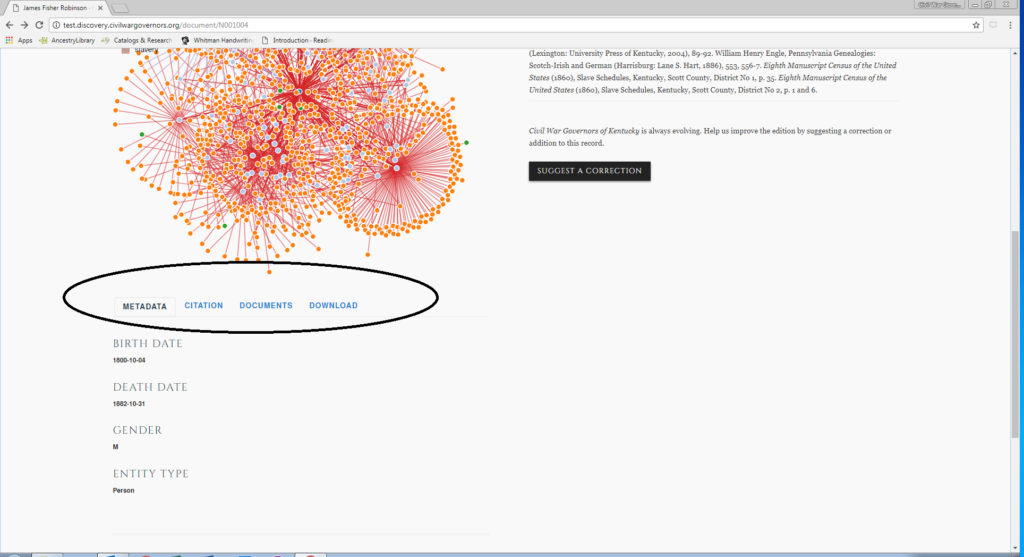 The metadata tab will give you access to the entities birth date, death date, gender, race, and entity type.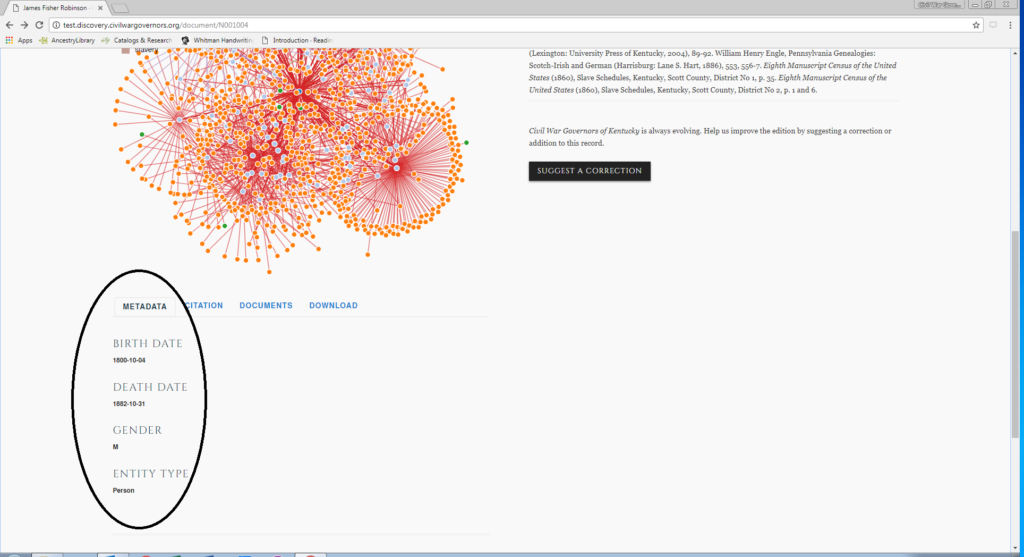 The citation tab will give the full entity citation for the convenience of the researcher.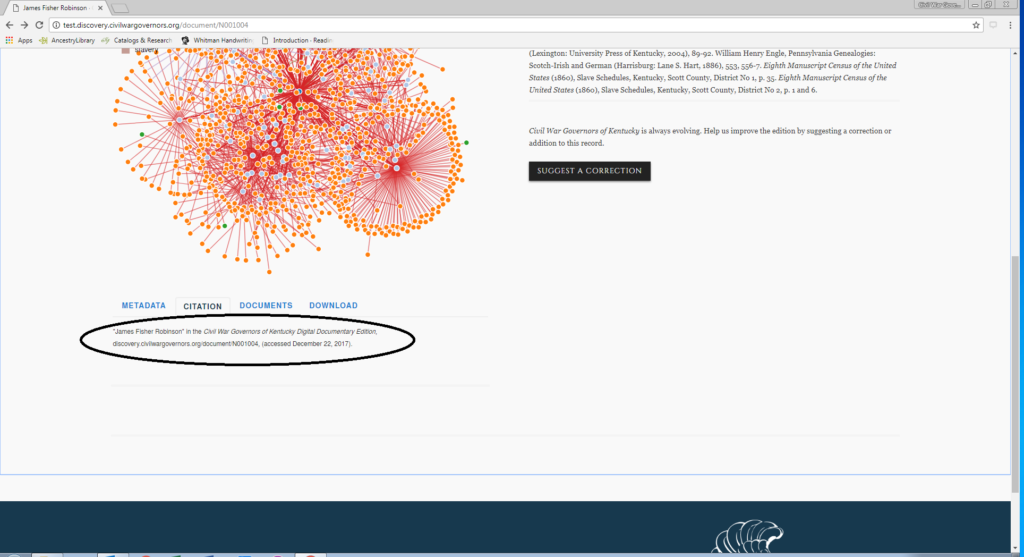 The documents tab will give you a list of EVERY document that this particular entity is linked to throughout the CWGK website. The list is quite long for Robinson.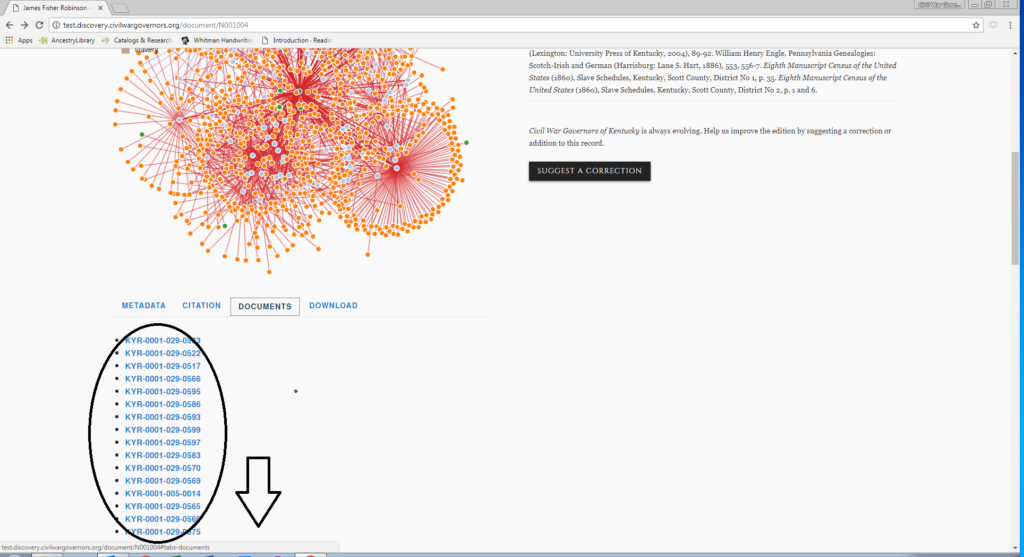 The download tab will allow you to download the XML code for that particular entity.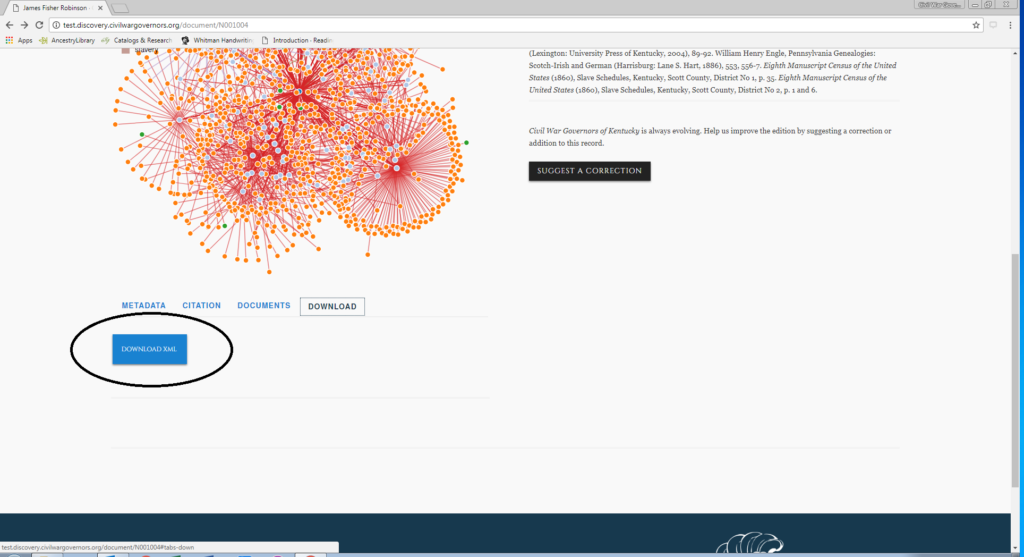 This is just the beginning of publishing fully annotated documents and visualizations on the CWGK website. Eventually, tens of thousands more documents and hundreds of thousands more entities will be published. Updates to the site will appear continually as the editing process continues and each document is completed.
So stay tuned and visit often!