By Patrick A. Lewis
Ceralvo Ohio County Ky
April 22 1864
Govenear Bramlet
Sir we have a compney of 300 hundaret men and we have no armes,, and we have the malishia formed in a compney and I want to know what to do in the case Pleas give me Instructins in the undertaking,, soon
Yours truly
J. M. Everly
actin as Captin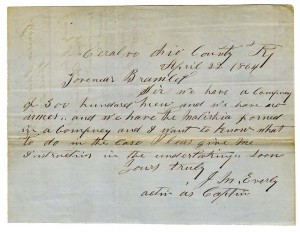 Jesse M. Everly, the author of this letter now housed at the Kentucky Military History Museum on the KHS campus, was a Union veteran, farmer, and father of five in his late thirties. His great-grandsons, the Everly Brothers, would make the family name famous in the mid-twentieth century with hits such as "Bye Bye Love," "Wake Up Little Suzie," and "All I Have to do is Dream." The "most important vocal duo in rock" blended regional sounds from folk, country, and early rock in ways that typify Kentucky as a crossroads of national culture.
Don and Phil Everly's grandfather, Isaac, wasn't born born until 1869. Could the Civil War, spilling off of the battlefield into rural Kentucky communities in 1864 and 1865, have silenced the Everlys generations before they shaped modern music?
Jesse Everly's famous descendants aside, this is a rich document for one so short. The small touches tell so much of the story here. Notice, for example, how Everly is "actin as Captin," with the traditional leadership of the county off in the officer corps of units such as the 26th Kentucky Infantry—Everly's unit until he was wounded and discharged after a skirmish at a Logan County railroad bridge in December 1861—Everly has taken it upon himself to organize a group for self defense from their rebel neighbors. What revealing sentence structure and punctuation, too, in "Pleas give me Instructins in the undertaking,, soon". The double commas impatiently emphasize the vital urgency that Everly felt.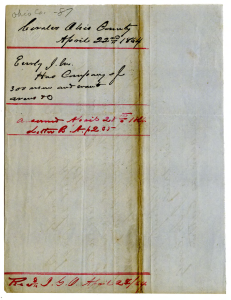 On the reverse of Everly's note is the clerk's annotation when this letter was received and filed in Frankfort—in the very arsenal building where this document is housed today. By this time in the war, military filing procedures were standardized and predictable. The clerk (in order, down the page) noted the date and place of the letter, recorded the author and a brief summary, listed the date of response and the book where the outgoing letter was copied, and logged the date of reception at the office.
Fortunately, the Inspector General's Letter book B from April 1864 survives and has been accessioned into the CWG-K collection. With just a few mouse clicks, future users of the CWG-K web interfaces will be able to move seamlessly from Everly's initial inquiry to the Inspector General's response, just one of the thousands of new connections between disparate collections and archives that this unique collection and research platform will help draw.
So, did Jesse Everly get his weapons to arm his militiamen? Stay tuned to the Civil War Governors news feed to find out!
Patrick A. Lewis is the project director of the Civil War Governors of Kentucky Digital Documentary Edition.